Astronomy is my favourite hobby. I am an active member of the Groupe d'Astronomie de Spa (GAS, http://www.groupeastronomiespa.be) since 1997. Below, two pictures taken at a conference in 2001: next to reknown astronomer Hubert Reeves, you will see several members of the GAS, including myself.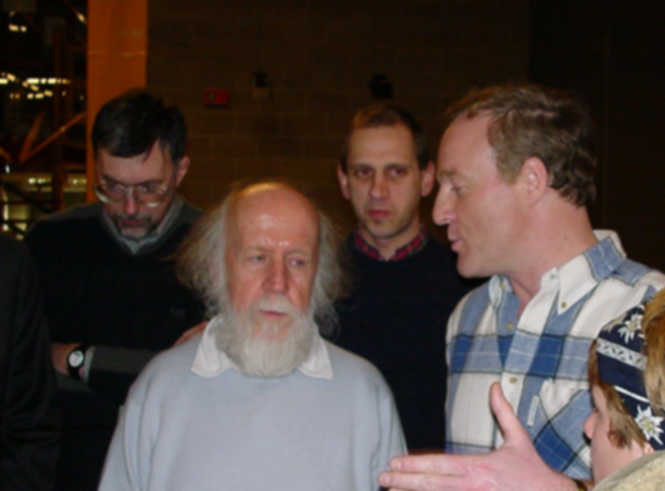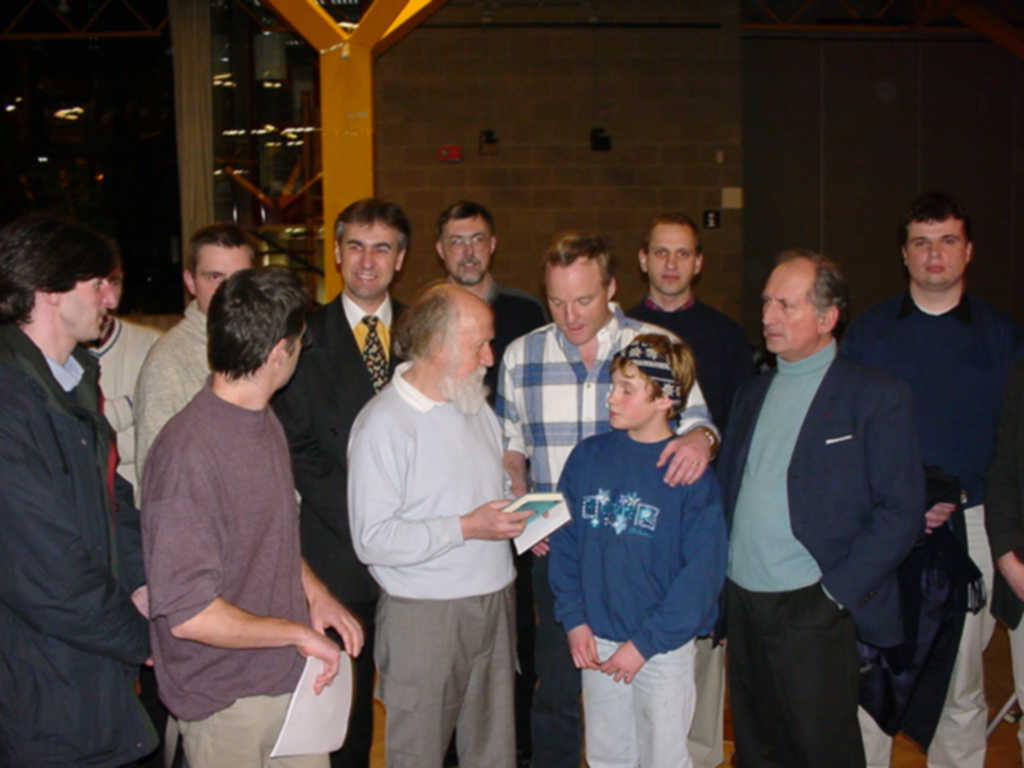 I own three telescopes:
one TeleVue NP127 (apo refractor)
one Takahashi FS60C (apo refractor)
one Vixen VC200L (VISAC Cassegrain).
My first "real" telescope (the one you effectively use) was a Meade ETX-90/EC (Maksutov Cassegrain, very portable; bought 1999, resold 2006). Lovely little beauty. I also had one Celestron C9.25 (Schmidt Cassegrain, bought 12.2002 resold 1.2007)) which itself replaced - and by far outperformed - a Meade 8in LX200; the C9.25 is a wonderful instrument but was too rarely used to justify keeping it (blame the skies here !). The three telescopes are used on a Astro-Physics Mach1 german equatorial mount since December 2007. I previously owned a Vixen New Atlux mount with SkySensor2000PC (here shown with the NP127, and here with the VC200L and FS60C). The FS60C is used for wide-field imaging, as a separate guider (using an SBIG STV - now sold, using the guiding SX camera) and for solar observing. The FS60C is also a very convenient setup for visual observing in white light, using a Herschel wedge (here shown with TeleVue solar finder - very useful - and 3-6 mm zoom, on Manfrotto tripod). The FS60C is the short tube model. As the solar observing virus catched me, a Coronado 60/10 SolarMax H-alpha filter (installed on the FS60C) has completed the setup. You will find below: A webcam has been acquired in october 2001. This provides a good start in CCD astronomy. This is a Philips ToUcam Pro CCD. Next came a CCD camera from Starlight Xpress, model MX916, replaced in 2005 by model SXV-H9 and its small guider.
And finally (end 2006) a Canon 20Da - now resold - joined the team. In Summer 2008, I acquired a OSC CCD camera, the SXVF-M25C (bought second-hand from Dietmar Hager), again from Starlight. Hereafter two pictures showing a typical setup for visual observing (NP127 on Mach1):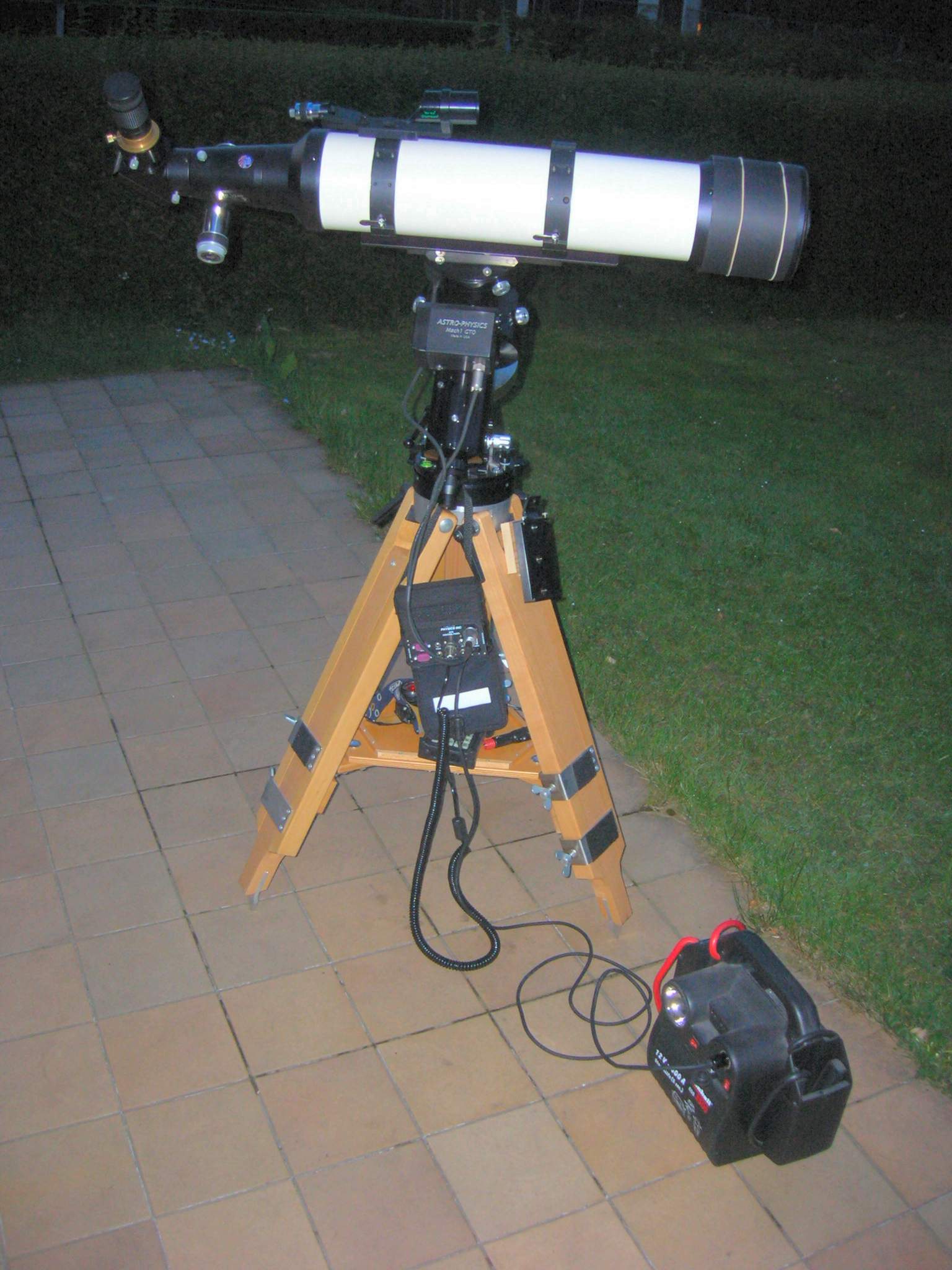 Use the table below to see some results.
Solar System
Jupiter
ETX-90/EC
Philips ToUcam Pro
The Sun
TeleVue 101
Olympus C3000z
Saturn
LX200
Philips ToUcam Pro
Saturn occultation, shown as 2 animated GIFs: disappearing and reappearing
LX200, 3.11.2001
Philips ToUcam Pro
Moon
TeleVue NP127
Canon EOS300D
Messier Objects
Leo Trio (M65...)
TeleVue NP127
Canon EOS300D
M1
TeleVue NP127
Starlight Xpress SXV-H9
M3
LX200
Starlight Xpress MX916
M3
C9.25
Starlight Xpress MX916
M13
LX200
Starlight Xpress MX916
M27
C9.25
Starlight Xpress MX916
M27 (color)
TeleVue NP127
Starlight Xpress MX916
M27
C9.25
Starlight Xpress SXV-H9
M27 (color)
TeleVue NP127
Starlight Xpress SXV-H9
M27 (color)
TeleVue NP127
Starlight Xpress SXV-H9
M27 (color)
VC200L with FR
Starlight Xpress SXV-H9
M27 (color)
TeleVue NP127
Canon 20Da
M27 (color)
VC200L with FR
Canon 20Da
M27 (color + Ha)
VC200L with FR
Canon 20Da (RGB) + Starlight Xpress SXV-H9 (Ha)
M27 (color)
VC200L
Starlight Xpress SXVF-M25C
M27 (color)
VC200L
Starlight Xpress SXVF-M25C
M31 (color)
Takahashi FS60C with FR
Starlight Xpress SXV-H9
M31 (color)

and here

TeleVue NP127 with FR
Canon 20Da
M31 (color)
Takahashi FS60C
Starlight Xpress SXVF-M25C
M33 (color)
TeleVue NP127
Starlight Xpress SXVF-M25C
M42
TeleVue NP101
Starlight Xpress MX916
M42 (color)
Takahashi FS60C
Starlight Xpress SXV-H9
M42 (color)
VC200L with FR
Canon 20Da
M42 (color)
TeleVue NP127
Canon 20Da
M42 (color - image of the month)
TeleVue NP127
Canon 20Da
M45 (color)
Takahashi FS60C
Canon 20Da
M45 (color)
Televue NP127
Starlight Xpress SXVF-M25C
M51
C9.25
Starlight Xpress MX916
M51
C9.25
Starlight Xpress MX916
M51 (color + BW)
C9.25
Starlight Xpress MX916
M51
VC200L with FR
Canon 20Da
M65, M66, NGC3628 (Leo Trio)
VC200L with FR
Canon 20Da
M81
C9.25
Starlight Xpress MX916
M81 (bis)
C9.25
Starlight Xpress MX916
M81
TeleVue NP127
Canon EOS 300D
M81 and M82
TeleVue 101
Starlight Xpress MX916
M81 and M82 (color)
TeleVue NP101
Starlight Xpress MX916
M81 and M82 (color)
TeleVue NP127
Canon EOS 300D
M81 and M82 (color)
VC200L with FR
Canon 20Da
M81 and M82 (color)
VC200L with FR
Canon 20Da
M81 and M82 (color)
TeleVue NP127
Starlight Xpress SXVF-M25C
M82
C9.25
Starlight Xpress MX916
M82
TeleVue NP127
Canon EOS 300D
M92
C9.25
Starlight Xpress MX916
M101
C9.25
Starlight Xpress MX916
NGC Objects
The Double Cluster (NGC884, NGC869)
TeleVue 101
Starlight Xpress MX916
The Double Cluster
VC200L with FR
Canon 20Da
NGC891
C9.25
Starlight Xpress MX916
NGC891 (color)
VC200L
Starlight Xpress SXVF-M25C
NGC4244
C9.25
Starlight Xpress MX916
NGC4565
C9.25
Starlight Xpress MX916
NGC4565
TeleVue NP127
Canon EOS300D
NGC6888 (color)
TeleVue NP127
Starlight Xpress SXV-H9
NGC6888
VC200L with FR
Starlight Xpress SXV-H9
NGC6992 (color)
TeleVue NP127
Starlight Xpress MX916
NGC6992 (BW)
TeleVue NP127
Starlight Xpress MX916
NGC6992 + 6995 (color)
VC200L with FR
Starlight Xpress SXVF-M25C
Other Objects
IC443
TeleVue NP127
Starlight Xpress SXV-H9
B33 (Horsehead)
TeleVue NP127
Canon 20Da
Events
Lunar Eclipse 3-Mar-2007
TeleVue NP127
Canon 20Da
I publish every 2 months, in the regular issue of my club's Bulletin, a description (in French) of the "Constellation of the Month":

And from time to time, an article from myself is published there as well (again in French unless specified otherwise...): Some interesting (I hope) documents: Some useful tools (borrowed from the web):

Lunar Phases

Jupiter Satellites

Weather Forecast: GFS